This month, the Paris Air Show captured headlines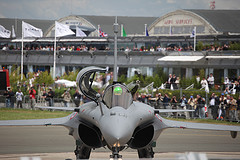 as aircraft makers provided a glimpse into the future. Between NetJets making a big splash with big orders and new planes being unveiled, as well as a look into future technology that was on display, the future of aviation looks bright.
First off, we will start with NetJets. While fractional ownership was big prior to the economic downturn and then took a heavy hit during the next five years, NetJets made a big bet on the future, announcing they were purchasing up to 275 Challenger 350 business jets (the first 75 are firm orders and the next 200 are options, with the entire deal being worth up to 7.3 billion).
Next, Pilatus, a Swiss company announced a new plane. They currently are famous for their PC-7 Porter, which, as the name would suggest, is a load carrying plane that is a hit among bush pilots and aid agencies. Their other well-known craft is the PC-12, which is a larger single-engine turboprop, which is remarkably flexible in its uses. The new plane, the PC-24, has the ability to use short, rough landing strips and has a large cargo door. It is designed to compete with Embraer's Phenom 300 and Cessna's Citation CJ4. However, its certification is not expected until 2017.
Also on display was the Airbus A380 in both static and flying displays.
A full A350 XWB cockpit and cabin section were on display, showing a number of technological innovations that promise to shape the future of aviation, including the e-concept plane, ideas for silent aircraft taxiing, and new fuel options.
Thales also brought forth a vision of the future with the "Avionics 2020" cockpit. This cockpit design had several touchscreen displays that would integrate with NextGen. Among the functions was the function that lets pilots alter takeoff and climb profiles to minimize CO2 emissions and fuel efficiency. This system could be integrated with air traffic controllers to allow for more optimal planning and accident avoidance.
Denis Bonnet, the head of innovation for the cockpit competence center at Thales said, "We are showing the world that a cockpit designed around more seamless interaction between the pilot and the electronics is no longer a purely intellectual concept, but a viable commercial application which, as more and more functionalities and tasks are added to a pilot's workload, will become essential for the future of air transport".
Planes weren't the only exciting part of the airshow. Test pilot Hervé Jammayrac and flight engineer Dominique Fournier chatted about their helicopter speed record in Eurocopter's X3 demonstrator aircraft. The helicopter flew at 255 knots (293 mph) in level flight and climbed up to 263 knots in a dive. The duo had said that when they were testing and recommending innovations, they did so with the goal to keep the costs low.
On the commercial aviation side, billions of orders were taken in for Boeing and Airbus, with $134 billion worth of new planes being sold. European budget air carriers Ryanair and Easyjet purchasing 310 planes in total.
Orders were strong on the general aviation side as well, with Bombardier taking $1.8 billion in business jet orders.
The strong show of demand is promising as that signals that the industry is preparing for future growth.
Not all was well at the Paris Air Show, as sequestration back home meant American fighter jets were not on display for the first time in over two decades.
Were you at the Paris Air Show? Tell us your experience below!
Photo credit: Flickr