In May, the Federal Aviation Administration (FAA) released an advisory circular regarding the reporting of wildlife strikes. This advisory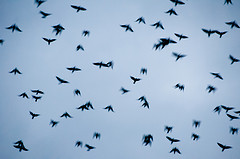 circular cancels an old one from 2004. Make sure you are up to date so nothing runs "a fowl."
On May 31, 2013, the FAA sent out a new Advisory Circular (AC) that outlines new guidelines for reporting collisions between aircraft and wildlife. The AC discusses why the collection of data is important, how to report and what happens with the results.
Who is Affected
The first question you may be asking is, to whom does this apply? Simply put, if you work in the aviation industry, be it as an air traffic controller, pilot or mechanic, you need to be aware of this advisory and know what to do.
The FAA states that wildlife strikes cause about $718 million in damages to aircraft per year. While they note that reporting has improved among the major Part 139 airports, smaller General Aviation airports tend to not have as well an established reporting program and have a gap in reporting.
While 97% of the Part 139 airports have reported at least one strike through 2011, only 43% of GA airports documented at least one strike. While this may seem minor, complete collection of data is required to start making any headway on improvements to increase safety, decrease strikes and decrease costs of repair and plane down time.
So what types of animals do you need to report? Essentially, you need to report just about everything short of insects. Any bird strikes or bat strikes need to be reported. If a strike occurs with a terrestrial mammal larger than 1 kg (2.2 lbs.) or any reptile of the same size, then it needs to be reported.
What and When To Report
When do you report things? You will want to report an aircraft strike if you witness one, see evidence of a strike or if you find bird or wildlife remains, whole or in part, within 250 feet from the runway centerline or 1,000 feet from the ends of the runway unless another reason for death is identified.
If you find animal parts on the taxiway and it seems reasonable that the animal struck the aircraft (such as finding bird pieces from a prop strike on a taxiway) then that needs to be reported. If you also find a carcass within a mile of the airport on final approach or departure and you think the bird struck an aircraft or someone reports a bird falling out of the sky or any other report of a probably wildlife strike, report it.
Try to report the instance any time you see any of the above-mentioned items as quickly as possible.
To report a wildlife strike, go to the Airport Wildlife Hazard Mitigation website or on your mobile device. You will also be able to submit a new form (form 5200-7, at the end of the AC.
Why It Matters
One of the goals of this is to ensure that accurate records are kept so that biologists who are working on wildlife hazard management programs can do so with better knowledge.. To do so, they need accurate species identification. While this may not be easy, the FAA has taken steps to improve the identification of species.
If you can collect feathers, the FAA works closely with the Feather Identification Lab at the Smithsonian institution to help accurate reporting. If you can't get feathers, any DNA, body parts or materials from the bird can help accurately identify the species.
Improve Collection for Identification
Collecting any body parts, DNA or materials will be made easier by assembling pre-made kits that you can send off quickly and easily. In these kits, include:
• A 1-quart re-sealable plastic bag
• Collection instructions
• Alcohol hand wipe
• A Whatman FTA ® collection card for preserving blood/tissue for DNA identification
• A pair of disposable gloves
What To Do With Your Collection Kit
In the event that you actually need to use your kit, the instructions are as follows:
Collect and submit the unknown remains to the Feather lab. Give them a call first at 202.633.0801. Try to send the remains as quickly as possible but if that's not an option, refrigerate or freeze the remains in a sealed plastic bag before mailing.

Fill out the form on the incident (see the above link about the form 5200-7 or click here to get to the FAA website. You will want to send one to the FAA (if you do this online, it is done automatically) and print one off so it can go with the remains. You can include your contact information if you wish to be contacted with the results of the species identification.
When you collect the remains, collect as much material as possible. You don't need to send a whole bird, just pluck some feathers representing color and patterns from the wings, tail and body. Don't cut the feathers off though, as the downy region is needed to make identification easier.
If a feather has a distinct color or pattern, be sure to include it. If you can, include beaks, talons or feet. If you only have a small amount of snarge (snarge is a term used for the residue and feathers left on an aircraft after an animal (typically a bird) collides with it) available for identification, try to collect as much of it as possible (but don't use water, bleach or other cleaners to get dry material off as that will degrade the DNA).
An alcohol wipe or a piece of cloth work great on dry or fresh snarge. If it is fresh and you have the Whatman FTA ® DNA collecting card, you can apply the snarge to the card. Don't use any sticky substance here (such as tape for the feathers) as this can slow the identification process, if not stop it all together. You will want to collect remains from each impact location and label the bags with each impact location.
Again, you don't need to send the entire carcass (it is preferred that you don't mail the carcass) but photos of it will help.
You will then mail the wildlife strike report and the material to the Smithsonian's Feather Identification Lab to:
Feather Identification Lab
Smithsonian Institution
NHB, E600, MRC 116
10th & Constitution Ave NW
Washington DC 20560-0116
Results can be expected in as little as 24 hours if enough material is submitted but DNA results can take 6-10 days.
For more information, read the entire AC here or contact the FAA national wildlife biologist at 202.267.8731.
Photo credit: Flickr