The Rim fire near Yosemite has been a devastating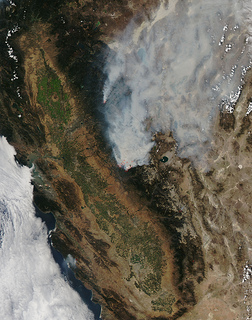 fire that has brought smoke pouring in to the Reno area. Dense smoke has caused the air quality index (which measures particulates in the air) up to a staggering 348. For comparison sake, 0-50 is considered good, 51-100 is considered moderate, 101-150 is unhealthy for sensitive groups, 151-200 is unhealthy for everyone, 201-300 prompts health warnings, and above 300 is a health alert where everybody may experience serious health effects. The poor visibility and dangerous air quality has started affecting events and aviation alike.
The image to the right shows the massive swath of land covered by the dense smoke. In the middle of all that smoke is the Reno/Tahoe area.
The first example of how the conditions have affected aviation comes from the Reno-based Care Flight air ambulance service. With the poor conditions (mostly visibility), Care Flight has been unable to respond to some emergency calls. Care Flight helicopters require 3 miles of visibility but the dense smoke has brought visibility to less than a mile in the area.
The issue hasn't been limited to the Reno area either.
In Lake Tahoe, CALSTAR (California Shock Trauma Air Rescue Ambulance) helicopters have also been grounded and unable to respond to 12 flight requests.
Overall, however, conditions are starting to improve as the fire is now 75% contained and the smoke has started to blow away after two weeks of unhealthy and unsafe conditions.
Photo credit: NASA Goddard Space Flight Center