Since 1964, Reno has been home to the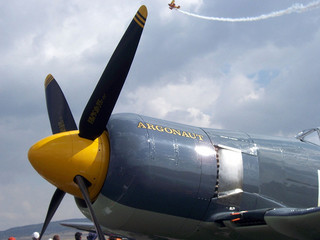 National Championship Air Races. This year, the Reno Air Races will run from September 11th through September 15th. This Air Show is, according to USA Today and 10 Best, one of the 10 Best Air Shows around the world. In addition to the Air Races, this year will also see a number of civilian performers, including the Jet Man.
The fast action returns to Reno but will be without the Unlimited Division. The Reno Air Race Association and the FAA couldn't come to an agreement regarding altitude restrictions. The FAA wanted to impose a 250-foot maximum altitude last year to try to protect spectators. The goal was to minimize "scatter radii" if a plane were to crash; however, the Unlimited Division board felt this was unsafe due to clearances and G-load margins. However, for fans of the biggest draw at the Reno Air races, the RARA announced a new race class to replace the Unlimited Division- the Unlimited and Warbird Racing Class. This features many of the Unlimited Class champions, such as Bill "Tiger" Destefani.
Another major draw this year is expected to be Yves "Jetman" Rosy. The Jetman will be making only his third appearance in the United States, with other appearances occurring in a private demonstration in 2011 when he flew over the Grand Canyon and an appearance at this year's EAA AirVenture Oshkosh fly-in. Rossy uses a carbon-kevlar jetwing with four engines to propel himself at over 150 mph using a simple throttle control and his body to steer.
Mike Houghton, president of the Reno Air Racing Association, says expectations of attendance through the weeklong event is expected to be over 200,000 people.
We here in Reno are excited for the air races to commence and to get our chance to watch all the competitors and see all their planes. Are you coming to the air races? If so, feel free to track us down to say hello! Let us know to look for you in the comment section below!
Photo Credit: Flickr