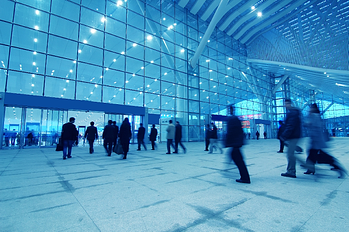 While the recent storms that affected airline travel nationwide did have some negative impact on jobs in the airline industry, overall, we're starting to see an increase in hiring across the board. That's great news for pilots, flight staff, flight crew, and all the folks at your local airport who help it run seamlessly.
And those numbers are likely to continue to rise. Currently, the airline industry generates around $675 billion in annual revenue around the world. That number has climbed in recent years, and will continue to do so. We should see 30 percent more air travelers by 2016, and more passengers mean more staff will be needed — from the front of house staff to those running operations behind the scenes.
Cargo travel, too, is going up. The International Air Transport Association predicts we'll be shuttling 35 million tonnes of cargo by 2016.
But who's really hiring? Is the best place to look for a job in air transportation the tiny airport down the road, or the bustling metropolitan hubs? And what roles are hot right now? Let's take a look.
Does Size Matter?
When it comes to the big players (think Hartsfield-Jackson in Atlanta), naturally, they employ a lot of staff. Airports with over $1 billion annual operating revenue currently have around 455,465 full-time employees and 95,979 part-timers across the country.
Medium regional airports, those with less than $20 million annual operating revenue, employ just over 500 staff in total. Obviously, there are airports in between these polar ends of the spectrum to consider as well.
So for those looking for multiple opportunities, larger airports will likely have more openings. But many prefer the intimacy of working at a smaller airport, where the staff is more closely-knit.
What Airlines are Hiring?
While it's not often visible from the outside, there are vast differences in the number of employees each airline has. Among those with the highest number of staff are: American, Federal Express, Delta, and United.
And while competition might be fiercer with the popular airlines, don't overlook positions with smaller carriers like Ameristar Air Cargo, Caribbean Sun Airlines, and Aloha Air Cargo. You might be one of fewer applicants at these lesser-known carriers, which increases your chance of getting hired.
What Positions are Open?
Passengers have no idea of the number of people it takes to successfully keep an airport and its planes operating smoothly. While positions like airport screeners, data entry specialists, avionics technicians, and flight dispatchers are less visible to the public than, say, ticket agents and flight attendants, they're no less needed in the overall operations of an airport.
Air traffic controllers are in particular demand right now, as evidenced by the FAA's recent decree that applicants don't need experience to apply.
There's also a need for pilots at regional airports, as turnover for this position tends to be higher than normal. Many pilots cut their teeth at regional airlines before heading to larger ones for better pay.
Positions at every level will need to be filled at airports like Toronto's Billy Bishop Airport, which is slated to create hundreds of jobs and bring millions of dollars to the local economy.
The airline industry is one that, short of flying cars making an appearance, will continue to grow. And with that growth comes the need for reliable employees of every level of skill and experience.
Even beyond the positions directly related to air travel (i.e. those at the airport), there are supporting roles, such as those involved in aircraft manufacturing and construction and expansion of new airports. The airline industry really touches hundreds of thousands of positions just here in the United States!
Image: PhotoSpin