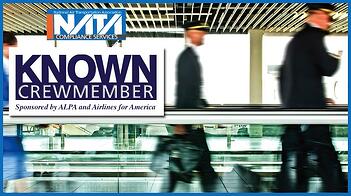 At the end of March 2014, the Known Crewmember® program (KCM) added its 40th participating location when it added General Mitchell International Airport (MKE). Since its inception in 2011, the KCM program has helped more than 15 million crewmembers navigate the screening process quickly and efficiently while enhancing overall security. The program is expected to expand into all U.S. airports and is targeting every U.S. carrier. Let's take a look at what the program is, who is eligible, and how to participate.
What Is The KCM?
The KCM program is a risk-based screening system that expedites access to sterile areas in airports by positively verifying the identity and employment status of flight crewmembers. The program began in 2011 as a joint initiative between Airlines for America (A4A), and the Air Line Pilots Association, International (ALPA).
The KCM is a key part of the TSA's Risk Based Security approach to aviation security since it allows the TSA to focus its resources on improving checkpoint screenings and overall security for everyone travelling through the nation's airports.
"Identity-based programs such as Known Crewmember enhance the screening process, strengthen our partnerships with aviation stakeholders and allow our officers to focus on those who present a greater risk to aviation security," says TSA Administrator John S. Pistole.
Perks of Membership
KCM expedites crewmember access to secure areas of participating airports. By creating a dedicated line for members, line congestion is reduced for everyone who relies on the air transportation industry, while enhancing security by making airport checkout screening more efficient.
NATA members are eligible to receive a discount on the biannual KCM badge fee as well as the program's monthly service fee.
Who Is Eligible For KCM?
The KCM program is available for flight crewmembers of aircraft operators regulated by the Twelve Five Standard Security Program who also participate in the program. In addition, certain Part 135 and Part 125 air charter flight crewmembers of aircraft operators regulated by the Private Charter Standard Security Program are also eligible to participate.
Join The Club
To participate in the KCM program, airlines must first be approved to join and can begin the application process online. If your company is eligible for the KCM program, you will be given the necessary forms to request amendments to your TSA standard security program. Note: pilots are not eligible for KCM unless their employers are participating in the program.
Once the airline's application has been approved, flight crewmembers who wish to participate may apply for a two-year badge and KCM key card. The application process involves successfully passing an in-depth pre-employment fingerprint-based background check and paying the appropriate fees.
If the application is approved, uniformed crew members may access sterile areas in participating airports by using a designated KCM security line. The participant will be screened by a TSA agent who will match the crewmember's ID with his/her physical appearance and then use the KCM system to confirm their identity and employment status before allowing him/her to proceed. Under normal circumstances, the KCM verification process takes only about 15 seconds to complete.
Crewmembers must be in uniform to access the KCM security line and will continue to be subject to random screenings. Crewmembers transitioning to a KCM access point are still barred from carrying prohibited items like firearms and knives and may not carry another individual's property through the check-point. Failure to adhere to these regulations may result in the loss of KCM privileges, criminal prosecution, and/or termination of employment.
With the success and expected expansion of the KCM program, participation will continue to support the TSA's security initiatives making access to safer skies quicker than ever.