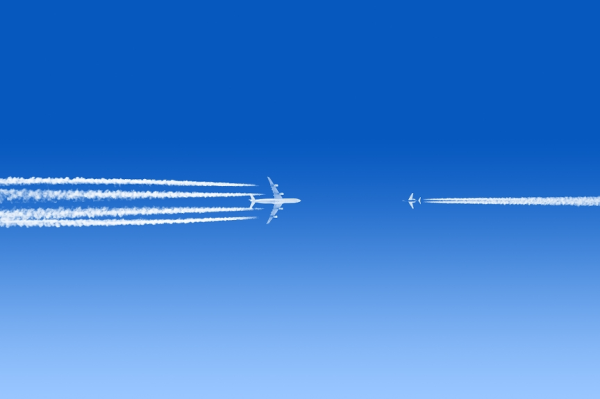 Mid-air collisions are rare these days, especially among large commercial aircraft. Yet there have been many near-miss mid-air collisions reported lately, with incidents in Newark and Hawaii in April alone. With advanced technology in the air and trained personnel on the ground, how do planes continue to find themselves on the path towards disaster?
Missed Connections
On April 24, an ExpressJet flight taking off from Newark Liberty Airport nearly collided with a United flight coming in for landing. The planes came within 200 feet of each other, and the incident made national news.
Air Traffic Control (ATC) regulates take-off and landings closely, so how could this near disaster happen? According to CBS News, it was human error. ATC did not grant permission to the United flight to land and instead ordered the pilot to circle the airport. The pilot of the United flight, which was carrying 155 passengers and six crew, reportedly ignored the order and proceeded to land anyway.
Just a day after the Newark incident, another near-miss occurred when a United flight came within 800 feet of a U.S Airways flight about 200 miles off of Kona Island in Hawaii. The Traffic Alert and Collision Avoidance System (TCAS) warned the pilots in time for both to take evasive action, but how did the two planes end up on a collision course in the first place? While the FAA and National Transportation Safety Board are investigating the incident, early reports have looked to an air traffic control operator who didn't realize the planes were on the same path.
Near misses are not just happening in the United States. Just a few weeks ago, on May 22, two flights carrying a combined total of 850 passengers, nearly collided over India. The cause, according to preliminary reports, was due to poor communication between two controlled air spaces and an "error in judgment" from an air traffic controller reportedly suffering from severe fatigue during a busy time of day.
And the UK released a report that in October of last year, two fighter jets in the middle of a training exercise came within 100 feet of colliding due, according to the UK Airport Board, to "ineffective outlook from the fast jet captains." Again, the TCAS overcame human error when it alerted one of the pilots, who was able to take evasive action.
Prevention and Action
Preventing mid-air collisions takes place on the ground and in the air. The ATC on the ground navigates air traffic by granting right-of-way permissions, especially around takeoff and landing, where pilots must obtain clearance at every stage of the processes. Yet, as the Newark incident shows, air traffic controllers can only do so much and the Indian incident highlights that even trained air traffic controller are subject to human frailties.
In the air, the TCAS provides onboard radar designed to "increase cockpit awareness of nearby aircraft and service as a last defense against mid-air collisions," The system functions independently of ground control and therefore in uncontrolled airspace. While TCAS is mandatory for planes carrying more passengers, smaller aircraft use cockpit displays of traffic information (CDTI) to help identify nearby aircraft. Engineers and North Carolina State University recently announced new improvements to CDTI systems to help pilots identify craft that pose the greatest risk to collision.
"We have seen a significant reduction in mid-air collisions since we have adopted these programs and this technology on-board commercial aircraft," said Former head of the NTSB, Mark Rosenker. And as air travel continues to grow, the increasing congestion of airspace will place higher demands on ATC and greater reliability on automated safety systems like TCAS.
Image: PhotoSpin