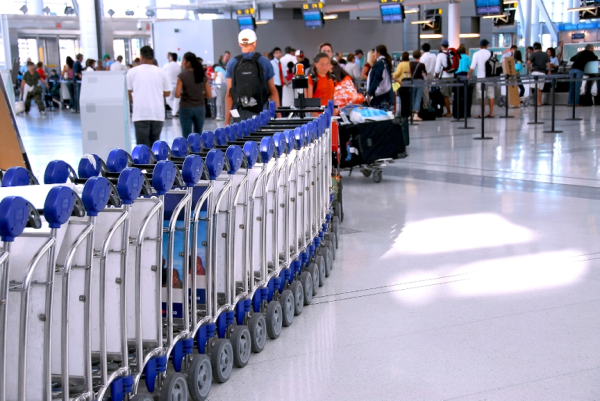 Over the last year, many passengers have been enjoying the benefits of the Transportation Security Administration's (TSA) PreCheck program. Recently, however the TSA has been spreading the word that the program will begin limiting its expedited service through airport security screening to paid members only. Let's look at what the program is and why this change is happening now.
What It Is
The TSA's PreCheck program is an "intelligence driven risk-based initiative" designed to move people through domestic airport security screening faster while still maintaining safety standards. It's actually a service that passengers who meet TSA-mandated criteria can get invited to join by their airline's frequent flyer program. Passengers may also apply directly through the TSA and military personnel and select government employees are automatically eligible to participate in the program.
The service requires a proof of citizenship, fingerprints for a background check, an interview, and $85 to join. If approved, membership lasts five years, which is the same as other similar programs such as Global Entry, which is for international travelers and includes access to the PreCheck program for just $15 more.
Beginning in 2011, PreCheck enabled the TSA to aspire to sending more than 25% of passengers though quick pass lanes by 2013. As enrollment in the program began to increase, the TSA decided to increase numbers faster and began extending PreCheck privileges to non-members whose profiles indicated they were low-risk. These profiles are made up of data compiled by airlines and the TSA, and are kept in the Secure Flight database. Now, more than 440,000 people have signed up for PreCheck so the agency is rolling back privileges to members only.
"We'll start pulling back on the number of people who we include on a random, managed-inclusion basis, because we want to, frankly, cater to those who have actually signed up, and who we have the highest confidence in because we know the most about them," said John S. Pistole, administrator at the TSA.
This is good news for some PreCheck members who have grown weary of uneducated non-members clogging up their fast lane by taking off their shoes, removing liquid items, etc.
It's Not Perfect Yet
There are some limits to the PreCheck program however. First, while the program operates in more than 118 airports, it isn't implemented in everywhere the TSA is, so there are airports, or airport terminals, where the service is not available. There is also no guarantee that the PreCheck lane will be open and staffed at all times. Also, if the Known Traveler Number, the PreCheck membership number, is not included with an airline reservation, members may stand a greater likelihood of being randomly selected out of the PreCheck lane while watching a non-member get randomly selected into expedited screening. Finally, if members travel internationally, the PreCheck program doesn't apply so they will still have to wait in the general security line and be subject to the same security procedures.
Of course, these downsides can be limited by making sure to include a Known Traveler Number on all airline reservations and checking into their flight at least 24 hours in advance to ensure the PreCheck logo appears on boarding passes to alert TSA agents that the passenger is a member. It may also be worth applying for the Global Entry program instead, since membership to that international program grants access to the PreCheck program as well.
As the TSA scales back accesses to PreCheck benefits to just members, it may see a spike in membership regardless of the fees, the application process or other hoops as passengers seek to improve their flying experience.
Image: PhotoSpin