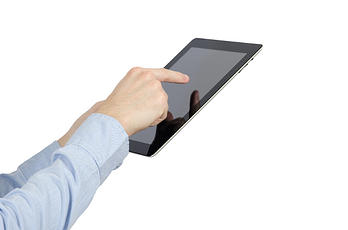 Hundreds of new planes are taking to the skies without the personal entertainment devices we've all come to expect. While some passengers may assume that planes without screens in the headrest are old, the truth is a little more complicated, as more and more airlines are counting on passengers bringing their own devices.
Passengers have been carrying laptops and other mobile devices onto planes for years, but up until recently they haven't been allowed to use them throughout a flight. Then, in October 2013, the Federal Aviation Administration (FAA) expanded the use of personal electronic devices to so they may remaining on during all phases of a flight: so long as it is in airplane mode. With this decision, along with growing rates of wi-fi on planes, passengers can stream content using the devices they already carry, and operators want passengers to use these personal devices rather than the airline providing them.
Relying on passengers to bring their own device (BYOD) isn't as risky as it sounds. According to Pew Research, 42% of Americans own a tablet, and 58% own a smartphone. So rather than taking extra time — not to mention expense — to install entertainment devices, some airlines are choosing to operate without them.
Realizing Cost Benefits + Additional Revenue Stream Opportunities
It is easy to see why airlines may not bother to install screens at all, given the adoption of mobile devices that can access in-flight entertainment directly through wi-fi. Not only can operators roll out new, more fuel efficient planes into their fleet sooner, but they can also save on the cost of the hardware and installation, which can be thousands of dollars per screen. In addition, without the extra devices on board, planes are lighter and therefore use less fuel. In an industry that runs on notoriously low margins, every savings is a boost.
In addition to saving money, airlines that choose to offer their in-flight entertainment via their in-flight wi-fi have a potential new revenue source, charging for wireless Internet access and/or more bandwidth to stream the larger movie and TV files. The prices airlines charge passengers to access the Internet varies substantially, from $4.95 to access Gogo in-flight wi-fi on American Airlines to up to $49 for laptops. This is all revenue the airlines were not collecting in the past. So while operators must order planes with one plug per seat and use more electricity to power these personal devices, it remains a lower overall cost than the alternative.
Hopping on the App Bandwagon
Always looking for an edge, airlines are encouraging BYOD in various ways. In July, Delta joined United and other airlines in offering in-flight entertainment via a mobile app. The app provides access to Delta's TV and movie options as well as other entertainment, such as their airline magazine and glass bottom plane that allows users to "see" what they are flying over. While Delta may still provide in-flight entertainment on in-flight screens, the adoption of the app may leave the carrier reconsidering their future fleet's entertainment options.
Hawaiian Airlines is going a step further and offering passengers the ability to rent iPad minis to access their in-flight entertainment. While the airline still has to purchase the minis, this option still delivers a lower upfront cost per device than screens in headrests, while also providing yet another revenue stream for the airline.
With airline crews also carrying tablets in the cockpit and to facilitate service, the airline industry is taking full advantage of mobile devices which might just make the skies a little friendlier for their bottom lines.
Image: PhotoSpin