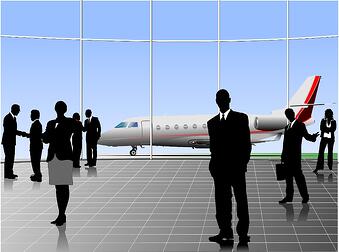 A report by the U.S. Department of Transportation Inspector General last month is raising concerns about the Federal Aviation Administration's (FAA) ability to carry out its upgrade of the nation's air traffic control system. The program, called the Next Generation Air Transportation System, or NexGen, began in 2003 and was supposed to conclude in 2020. However, funding issues, doubts, and general uncertainty are creating delays and making the program more expensive than originally conceived. All this is making some wonder, is NexGen for real?
What Is NexGen?
As we've reported in the past, NexGen is a major overhaul of the air traffic control system upgrading it to satellite-based technology. The program was implemented to allow more planes to fly in the same airspace safely, to reduce inefficiencies in routes and landing, and save time and money. In the last 10 years, NexGen has seen partial deployments in more than 1,600 airports with new updates happening all the time as it is implemented piece-by-piece.
With this success, there is trouble on the NexGen horizon. Unstable funding, as well as doubts as to whether FAA can scale and include new technology, has led many to question whether the program will, in fact, be implemented. This doubt is slowing the adoption of necessary equipment and putting further funding in jeopardy which, in turn, is creating further delays and doubt.

Stalled Funding
In September, the Inspector General issued a report questioning the program's ability to generate a positive return on its increasingly necessary investment.
"FAA currently estimates the cost of the program to be $4.5 billion, an increase of $400 million from original estimates," the report stated, "Ultimately…the total costs for the [NexGen] program…now outweigh the projected benefits of the program by as much as $588 million."
This report, which has already spurred concerns about the program's ability to continue, could also damage future budget allocations. Adding to this concern is the government's ability to provide stable funding. In 2013, for example, the government shutdown resulted in a delay of the program's implementation and FAA operations by about nine months. And with another sequestration on the horizon, October 2015, FAA is seeking to improve its funding to increase stability.
"Money is the issue, but funding is the problem," said the President of the National Air Traffic Controllers Association, Paul Rinaldi, "It's broken."
Rollout Doubts
The concern of NexGen's funding isn't the only thing that could make or break the program. Many are questioning FAA's ability to execute the program on time. A survey found that only about 13% of aviation industry representatives were confident in FAA's ability to effectively manage the NexGen rollout.
"Implementation is a difficult process," said Delta's SVP for Flight Operations, Captain Steve Dickson, "Transitions are always difficult…"
Recent news reports about the NexGen essentially leaving commercial drones out of its plans are only adding to doubts that the program will be sufficient in a changing world.
Uncertainty Adds Time
With inconsistent funding and doubts over FAA's ability to execute NexGen, many airlines are waiting to equip their new planes with technology that is required for NexGen to work. They are unwilling to invest financially in a system that they are not confident will become mandatory. This slow adoption is only adding to delays and putting off program successes that could help ease uncertainty.
"We will try to identify what the issues are, or what the barriers are, so that carriers can equip by the deadline that we worked with industry to establish," said FAA Administrator, Michael Huerta.
The FAA is hoping that working with industry leaders will help make NexGen a reality regardless of the challenges it faces.
Image: PhotoSpin