On May 12, 2016, The Occupational Safety and Health Administration (OSHA) issued a final rule to revise its Recording and Reporting Occupational Injuries and Illness regulations that took effect August 10, 2016. The rule is part of an extensive rulemaking that concerns the tracking of workplace injuries and illnesses. OSHA's regulation at 29 CFR part 1904 requires employers with more than 10 employees in most industries to keep records of occupational injuries and illnesses at their establishments. Employers covered by these rules must record each recordable employee injury and illness.
OSHA's concern in amending the regulation is that employers' post-accident testing policies should not discourage or deter employees' reporting of workplace injuries and that policies mandating automatic post-injury drug testing as a form of adverse action that can discourage reporting. OSHA believes "the evidence in the rulemaking record shows that blanket post-injury drug testing policies deter proper reporting. However, the final rule does prohibit employers from using drug testing (or the threat of drug testing) as a form of adverse action against employees who report injuries or illnesses. To strike the appropriate balance here, drug testing policies should limit post-incident testing to situations in which employee drug use is likely to have contributed to the incident, and for which the drug test can accurately identify impairment caused by drug use."
There are several parts of the rulemaking that are causing confusion for employers and the industry as a whole and we anticipate that OSHA will have to clarify "impairment" as it refers to drug testing because, unlike alcohol, there are no drug testing methods that show current drug impairment. That said, there are some things that employers can do to prepare:
Review your policy – post-accident policies should be reviewed and updated to ensure the language cannot be construed as "blanket" and therefore be presumed to be retaliatory and instead to deter or discourage reporting.

Review your state laws – we know state laws can be a part of an employer policy and that the enforcement of post-accident or post-injury. Many states have laws that apply to employers in that state. Adherence to state Drug Free Workplace and state worker's compensation laws will not change and OSHA will not find a violation of 1904.35 (b)(1)(iv) when post-accident testing is performed in compliance with these laws.

Consider implementing a random drug testing program as an additional deterrent to existing employees. Many states allow random drug testing and the OSHA regulations do not apply. The cost of randomly drug testing a small percent of current employees can easily be offset by the burdensome costs of drug use on the job.
Consider Laboratory based oral fluid drug testing. Laboratory based oral fluid drug testing provides employers with an affordable, legally defensible solution for aligning their post-accident drug testing policy and procedures with the new OSHA regulations. Every drug has its own unique window of detection depending on a variety of factors including cut-off level. Laboratory based oral fluid drug testing detects drugs immediately after use unlike urine where the detection can be delayed several hours after use. Because the window of detection starts immediately and last for 24-48 hours, it makes it difficult for someone who tests positive to claim he or she used the drug on Friday night when the test was conducted after their lunch break the following Tuesday. Lab-based oral fluid testing is legal in all but three states (Maine, Hawaii and Vermont).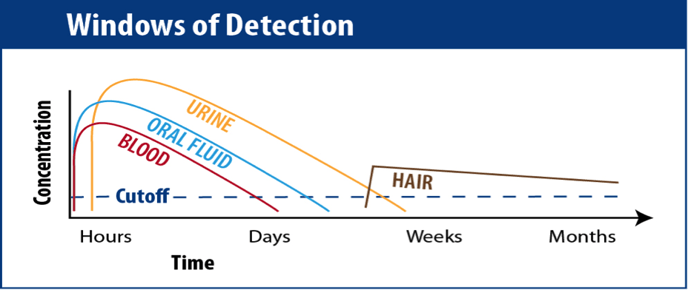 Laboratory based oral fluid drug testing combined with supervisor training to identify and document the signs of impairment and a post-accident policy that complies with state laws and OSHA regulations provides employers with an optimal solution for compliance.
Make sure to double check your policies becasue after August 10, 2016 OSHA can begin issuing citations for overly broad policies and drug testing programs that fall out of compliance with the new OSHA regulations.