In the fall of 2001, four commercial airliners were turned into weapons of mass destruction, the first time in history. This event, known as 9/11, left the nation shaken to its core and generated significant changes in national security protocols and policy. One of these changes was the creation of the Transportation Security Administration (TSA).
Realizing the need for more stringent security measures on certain aircraft operations, TSA established multiple security programs, one of which is the Twelve-Five Standard Security Program (TFSSP). The goal of this program, and other TSA programs, is to put preventative measures in place that enhance the security of aviation property and people. Specific details of the TFSSP are shared on a need-to-know basis, but the basic components are as follows:
Fingerprint-based FBI Criminal History Records Checks (CHRCs) for pilots and flight crewmembers

Security training

Identification Media
As discussed in a previous post, if an aircraft operator has an aircraft that weighs 12,500 pounds or more, they may be required to enroll in the Twelve-Five Standard Security Program. Depending on the type of aircraft operation, the Transportation Security Administration determines the type of Security Program(s) that would be required. To ensure that an operator meets all federal requirements, they must work with their TSA Principal Security Inspector (PSI).
It can be intimidating for many air operators when it comes to setting up a TFSSP. There are always questions like, "How much work will having a security program require?" "Is a TSA Security Program worth the hassle?" or "How do I even enroll for a TFSSP?" To get these questions answered, NATACS conducted a study. Participants in this study were company representatives whose company had a TSA Standard Security Program. This may be a TFSSP, DCA Access Standard Security Program (DASSP) or a Private Charter Standard Security Program (PCSSP).
After analyzing the results, NATACS found over 70% of respondents said the reason for adopting one or more of these programs was due to the natural progression of their company. Respondents also claimed that maintaining a competitive edge and customer satisfaction were other factors in their decision.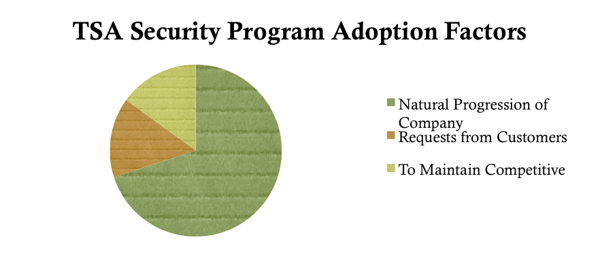 In the same study, over 75% of respondents reported that having a security program did not significantly impact their day-to-day operations. Furthermore, 85% of respondents reported that they did not have to increase additional resources or staff to meet security requirements.
If your operation is looking further into the TFSSP, consider the following benefits that other operations have experienced.
Having a heightened sense of security awareness among staff, crewmembers and the organization.

Defined policies and procedures will help with efficiencies and ultimately the success of the operation.

Enabling the option for the air operator to enroll in the Known Crewmember® Program (KCM®). Operators with either a Part 125 or Part 135 Certificate and a TSA Standard Security Program may be qualified for KCM®. In today's highly competitive market and faced with the challenges of pilot shortages and pilot retention, this benefit can be used to attract potential hires and retain employees.
For more information on the TFSSP application process, click here.