In celebration of the Independence Day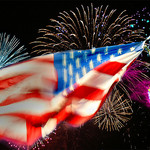 , We will be closed on the 4th of July, 2013.
Independence Day celebrates the adoption of the Declaration of Independence 237 years ago. While the separation from King George III and the United Kingdom began in 1775, the Declaration of Independence wasn't suggested to the Continental Congress until Richard Henry Lee of Virginia in June of 1776. By July 2nd, the thirteen colonies legally had separated from the United Kingdom. The Continental Congress debated the wording of the Declaration of Independence for a day and then the Declaration was handwritten by Thomas Jefferson in time for signatures to be collected starting July 4th. While Thomas Jefferson, John Adams and Benjamin Franklin all state they signed the Declaration on the 4th, many historians believe that most of the signatures were collected a month after its adoption, on August 2nd.
Many of the founding fathers understood the importance of the day, including future president John Adams who wrote to his wife:
The second day of July, 1776 will be the most memorable epoch in the history of America.I am apt to believe that it will be celebrated by succeeding generations as the great anniversary festival... It ought to be solemnized with pomp and parade, with shows, games, sports, guns, bells, bonfires and illuminations, from one end of this continent to the other, from this time forward forever more.
While John was off by two days (He was citing the day the resolution of independence was approved by the continental Congress, instead of the date shown on the Declaration, which would go on to be much more publicized) but beyond that, his prediction seems to be spot on.
We want to wish you, your family and friends a safe and happy 4th of July!