On July 19th, the TSA announced an expansion to thei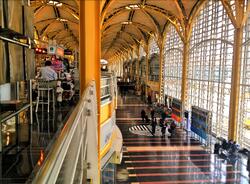 r PreCheck process. PreCheck currently allows eligible participants to move through security checkpoints much, much faster with fewer disruptions. The PreCheck process previously required travelers to opt-in through a major airline's frequent flier program. This could only be obtained by those who flew regularly and was only available on that one airline. However, starting later this year, that process is seeing some changes.
The TSA is now launching an application program that will allow for U.S. citizens to apply online for PreCheck. Applicants will visit an enrollment site to provide some additional information and fingerprints. To start, there will only be two initial enrollment sites, at Washington Dulles International Airport and Indianapolis International Airport, but plans are in the works to add more enrollment sites across the country.
PreCheck is one of the Risk Based Security measures that the TSA has taken on to remain agile and improve passengers' experience at security checkpoints. The idea behind PreCheck is that individuals will undergo background checks and fingerprinting to give the TSA enough knowledge that they know who is purchasing a ticket. Those who pose little risk are then able to speed through security checkpoints with relative ease, being able to keep shoes, light jackets, and belts on, their laptops in their cases and their liquids in their carry-on (assuming they still follow the 3-1-1 rule). This expedites their security screening significantly while allowing the TSA to focus their efforts on those they don't know.
Once an individual has completed their background check, fingerprinting and has paid the enrollment fee (which is currently anticipated to be about $85 for a five-year membership), they will be adjudicated by the TSA. Once they have received approval to join the program, they will get a Known Traveler Number. This number will identify the individual as a PreCheck participant and will give them the opportunity to use the expedited security lanes.
However, there are still elements of randomness in the TSA's security measures. Just because someone has been accepted into PreCheck doesn't mean that they are guaranteed expedited screening. A certain portion will still get selected for standard screening.
Tom Hendricks, President and CEO of the National Air Transportation Association said, "NATA welcomes the expansion of the PreCheck Program and the TSA's continuing efforts toward developing a more risk-based solution to aviation security."
This sentiment seems to be near universal as we here at NATACS feel the same way. We are excited to see the PreCheck program expand. The movement toward a risk-based security solution is a good one that hopefully can make for a greater experience for more people. There are already over 12 million people who are in the PreCheck program with expedited security at 40 airports through the country. As the program expands to cover more and more travellers, the experience will only get better while keeping our skies safe.
What are your thoughts? Are you excited about the prospect of faster security screening on your next trip to the airport? Does this scare you? Let us know in the comments section below!