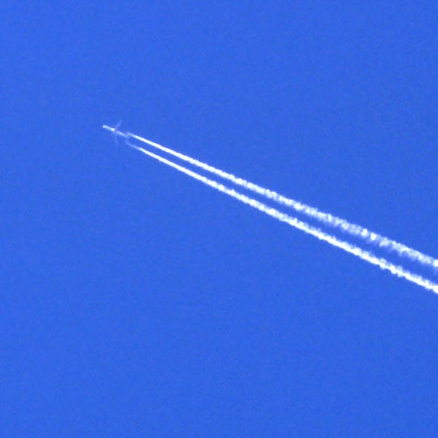 Without a doubt, business aviation took a big hit during the economic downturn. A great deal of the damage was caused by the perception that the "Haves" were flying around in their plush biz jets while the "Have-Nots" were experiencing an economic free fall.
The sight of automotive and banking industry executives flying to Congressional hearings in multi-million dollar private jets, asking for a handout, did not sit well with the Congressmen and the general public in 2008. Despite valid arguments that corporate jets save businesses time and money, the press skewered executives for this particular company perk, which in turn fueled the public outcry against their perceived conspicuous consumption.
More than half a decade has elapsed since those dark days of 2008, and while the economy still isn't as healthy as we'd all like it to be, it is much healed and continues to mend. Most aviation business segments today are experiencing increased demand, achieving profitability and are positioned for future growth.
Avinode, the world's leading online marketplace for buying and selling air charter, is predicting the recovery of the U.S. business jet charter market to continue in 2015, with a 3.5% increase in flights versus 2014, while Europe will show modest growth, with flight volume growing by 1.6%.
According to the Avinode Business Jet Charter Market Forecast, all regions of the U.S. will see charter market growth in 2015. The South will perform strongest, with an increase in flight numbers of 4%, closely followed by the West, where volumes will grow by 3.6%. The Northeast will see a 3.3% increase in activity, while the Midwest will record growth of 2.5%.
Avinode Group CEO Niklas Berg said: "This year, the U.S. charter market has performed extraordinarily well, demonstrating its strongest figures since the financial crisis of 2008. We expect that by the end of 2014, the U.S. will see its highest annual levels of business jet travel for at least six years. New business models are emerging, more aircraft are being purchased, and venture capital is flowing back into the market. This trend will only continue in 2015, when we are predicting market growth of 3.5%."
Honeywell recently released its 22nd Annual Business Aviation Outlook, which is predicting positive growth in business jet purchases over the next 10 years.
Honeywell Aerospace projects that up to 9,250 new business jets worth nearly $260 billion will be delivered between 2013 and 2023. The projected value of those deliveries is up 3 to 4 percent, compared to the company's 2012 forecast, in large part due to the continuing strong demand for large-cabin jets.
"The trend toward larger-cabin aircraft with ever-increasing range expectations and advanced avionics is seen more strongly than ever in this year's survey." said Rob Wilson, president of Honeywell Business and General Aviation.
The FAA Forecast for Fiscal Years 2014-2034 shows that general aviation industry will continue to show signs of recovery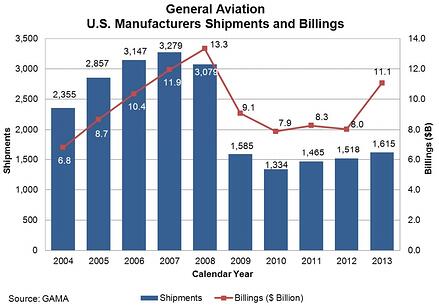 The general aviation industry continues its modest growth, however, slow economic recovery and economic uncertainties continued to impact the industry.
According to figures released by the General Aviation Manufacturers Association (GAMA), U.S. manufacturers of general aviation aircraft delivered 1,615 aircraft in 2013, up 6.4 percent from 2012. This translates into the third year of increase in shipments; with sales for U.S. manufacturers totaled $11.1 billion in 2013, up 38.1 percent from 2012.
Overall, piston deliveries increased by 6.5 percent in 2013, with single-engine aircraft up 4.5 percent and the much smaller multi-engine category up 27.0 percent. In the turbine categories, turbojet deliveries fell by 3.7 percent in 2013; however, turboprop deliveries were up strong 13.8 percent, though a substantial portion were exported overseas.