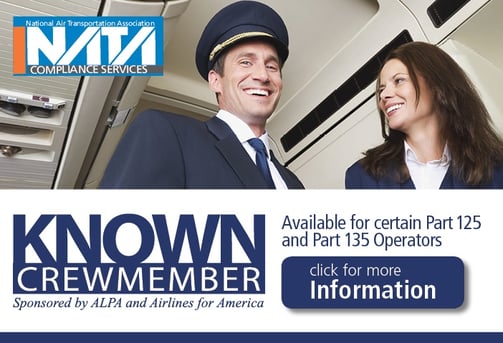 The National Air Transportation Association (NATA) and NATA Compliance Services (NATACS) is pleased to offer the Known Crewmember® Program (KCM®) to certain Part 135 and Part 125 air charter pilots.
Known Crewmember® is a risk-based screening system that enables TSA security officers to positively verify the identity and employment status of flight crewmembers. The program expedites flight crewmember access to sterile areas of airports, reduces passenger screening line congestion, enhances security, and makes airport checkpoint screening more efficient for all who depend on air transportation.
NATA worked in close partnership with Airlines for America (A4A), the Air Line Pilots Association (ALPA), the TSA and NATA Compliance Services to bring this valuable program to our industry.
---


---
Participating Operators:
| | | |
| --- | --- | --- |
| 24/7 JET, Inc. | Flightline First | Paradigm Jet Management, Inc. |
| 30 West Inc | Flightworks, Inc. | Paragon Airways |
| 45 North Flight | FliteAccess, LLC | Parallel Express |
| A-OK Jets, Inc. | Florida Wings Inc. | Pegasus Elite Aviation |
| AB Jets | Fly Exclusive | Pentastar Aviation Charter Inc |
| AC Aviation Services LLC | flyADVANCED Jet | Phenix Jet |
| Accent Airways LLC | FlyCarolina, LLC | PHI Health, LLC. |
| ACI Jet | Freedom Jets | Pinnacle Aviation |
| Actus Aviation, LLC | Fuga, Inc. | Plane Travel, LLC |
| Advanced Air, LLC | Funair Corporation | Planemasters Ltd. |
| Advantage Aviation Charter, LLC | Gama Aviation LLC | PlaneSense Inc. |
| Aero Air | Gary Jet Center | PlaneSmart! Charters |
| Aero Air, LLC | Gateway Aviation Management, Inc | Planet Nine Private Air, LLC |
| Aero Charter, Inc. | GC AVIATION, INC. | Plus One Air |
| AeroCare Medical Transport System, Inc. | Generation Jets, LLC | Polaris Aviation Solutions |
| Aeromedevac, Inc | Georgia Jet Inc. | Precision Aircraft Management |
| Air 7 LLC | Global Air Charters, Inc. | Premier Private Jets |
| Air Associates Charter Inc of Kansas | Global Aviation, Inc. | Presidential Aviation, Inc. |
| Air Cargo Carriers, LLC | Global Executive Aviation | Priester Aviation, LLC |
| Air Center Helicopters, Inc | Global Jetcare, Inc. | Prime Jet, LLC |
| Air Charters Inc. | Globaljet N.A., LLC | Priority Jet |
| Air Medical Charters | GMJ Air Shuttle, LLC | Privaira |
| Airbrock Management and Charter Services Inc. | Golden State Jet LLC | PRIVATE JET CENTER |
| Aircharters Worldwide | Golden West Airlines, Inc. | Private Jets Inc |
| Aircraft Charter Services, Inc. | GoodJET | PrivateFlite Aviation |
| Aircraft Evaluation and Management Inc. | Grande Aviation LLC | Pro Airways, LLC |
| Aircraft Management Group Inc. | GrandView Aviation LLC | Professional Flight Transport |
| Aircraft Services Group Inc | Great Point Air Charter, LLC | ProFlite LLC |
| Aircraft Transport Services | Great River Aviation LLC | Propilot LLC |
| Airmed International | Gulf Atlantic Airways - FL | Pulver Air Charter, LLC |
| AirSmart | Hangar 7 Inc. | RAI Jets, LLC |
| Airway Charter Services | Haskin Aviation, LLC | Rampart Aviation LLC |
| Aitheras Aviation Group, LLC | Heartland Aviation, LLC | RB Aviation LLC |
| Alante Air Charter, LLC | Helicopters Inc | RED WING AEROPLANE CO. |
| Alerion Aviation | Heliflite Shares, LLC | Reliant Air Charter, Inc. |
| Alpine Air | Hera Flight LLC | Rennia Aviation, LLC |
| Altius Aviation, LLC | HessJet, LLC | Reno Flying Service, Inc. |
| American Air Charter, Inc. | Hightail Air Charter LLC | Reva, Inc. |
| American Charter Services LLC | Hill Aircraft & Leasing Corp | Reynolds Jet |
| American Jet Charter, Inc. | HMC Interests | ROYAL AIR CHARTER |
| American Jet International Corp | HUGHES FLYING SERVICE | RVR Aviation, LLC. |
| Ameriflight Attn:Flight Department | IBC Airways Inc. | Ryan Air Inc. |
| Ameristar Charters | Image Air Charter LLC | Saturn Aviation LLC |
| Ameristar Jet Charter, Inc. | Integra Jet LLC | Sawyer Aviation |
| ASI Charter Inc | Integrated Flight Resources, Inc. | SC Aviation Inc. |
| ATI JET EXECUTIVE CHARTER | International Group, LLC | Schubach Aviation |
| Atlantic Jet, LLC. | International Jet Aviation Services, Inc. | Scott Richard Aviation Services, Inc. |
| Aurora Aviation Inc. | International Jet Charter | Sea to Sky Air, Inc. |
| Avalair Aircraft Management | Interstate Aviation, Inc | Secure Air Charter, LLC |
| Aviation Advisor, Inc. | JA Air Charter | Select Jet |
| AVIATION CHARTER, INC. | Jackson Jet Center | SevenBar Aviation LLC |
| Aviation Charters, Inc. | Jet Access Aviation | Shoreline Aviation, Inc. - MA |
| Aviation Resource Management Inc. | Jet Aviation | Short Hills Aviation Services, Inc. |
| Axis Jet | Jet Aviation Flight Services Inc. | Sierra West Airlines |
| Baker Aviation, LLC | Jet Edge | Silver Air |
| Bankair Inc. | Jet I.C.U. | Siskiyou Aviation LLC |
| BellAir | Jet Linx Aviation, LLC (Omaha) | Sky Jet Elite Corp |
| Best Jets International | Jet Logistics Inc. | Sky Night, LLC |
| Better Living Aviation, Inc. | Jet Pros, LLC | SKY PARTNERS Inc. |
| Blatti Aviation, Inc. | Jet Ride | Sky Quest LLC |
| Blue Sky Charter LLC | Jet Select | Skybird Aviation Inc. |
| Bravo Air | Jet Stream Aviation, LLC | Skynet, LLC |
| Business AirMgmt | Jet Up Aviation | Skystream Jet |
| Business Jet Access | JET-A, LLC | Skytech Travel LLC |
| Business Jet Managers, Inc. | Jet1 Charter Inc. | Skyward Aviation |
| Cape Clear LLC | JETEX LLC | Skyways Charter LLC |
| Capital City Jet Center Inc. | JetRight | Soin International, LLC |
| Capjet | Jets Plus LLC | Solairus Aviation |
| Caris Air Services | JETT CHARTERS | Southern Jet, Inc. |
| Carlisle Air Corporation | Joe Gibbs Racing, Inc. | Southern Sky Aviation Charters LLC |
| Castle Aviation Inc. | Journey Aviation | Southwest Aircraft Charter |
| Catalina Aerospace Corp | JSX | Sovereign Air LLC. |
| Central Air Southwest, Inc. | Justice Air Inc. | Spanishtown Engineering LLC |
| Central American Airways Flying Services Inc. | Kaleidoscope Charter Services Corp. | SpiritJets, LLC |
| Century Aviation Inc | Key Lime Air Corporation | Springfield Aircraft Charter and Sales Inc |
| Chairman Airmotive II, LLC | Keystone Aviation | STAjets |
| Champion Air LLC | KLM Aviation, Inc. | Starflite Aviation |
| Channel Islands Aviation, Inc. | KMR Aviation, Inc. | Starjet, Inc |
| Chantilly Air Inc. | Kolob Canyons Air Service | Stebbins Aviation Inc. |
| Charles City Aeronautics Inc. | Koury Aviation, Inc | Sterling Aviation, LLC |
| Charter Airlines LLC | Lanier Flight Express, LLC | Suburban Air Freight, Inc. |
| Charter One | Las Vegas Sands Corp. | Summit Aviation Inc. |
| Chevron USA Production Company | Latitude 33 Aviation, LLC | Sun Air Jets, LLC |
| CHI Aviation | Legacy Airways, LLC. | Sundance Aviation LLC |
| Chicago Jet Group LLC | Legacy Aviation, LLC | Sunrise Jets |
| Chrysler Aviation | Legends Airways, LLC | Superior Air Charter LLC |
| Classic Jet Center, LLC | Liberty Air | Swift Aircraft Management, LLC |
| Clay Lacy Aviation, Inc. | Liberty Jet Management | TAG Air, Inc. |
| Club Jet | Life Flight Network | Tailwind Air, LLC |
| COCKRELL RESOURCES, INC. | LimoJet Inc. | Talon Air LLC |
| Coleman Jet LLC | Loyd's Aviation | Taughannock Aviation Corporation |
| Corporate Air Travel LLC | Lyddon Aero Center Inc. | Tavaero Jet Charter, Inc. |
| Corporate Aircraft Management | Lyon Aviation Inc. | Team 125 Inc. |
| Corporate Eagle Management Services Inc | M & N Aviation | Tempus Jets Inc. |
| CORPORATE FLIGHT, INC. | M.B.AIRWAYS INC. | Textron Aviation Inc. |
| Cove Aviation Partners, LLC | Mach One Air Charters Inc. | The FlightStar Corporation |
| Craft Charter, LLC | Mach Point Aviation | The Whitewind Company |
| Craig Air Center Charter | Maine Aviation Aircraft Charter, LLC | Threshold Air Charter, Inc. |
| Crew Aviation, LLC | Maxair, LLC. | Thrive Aviation |
| Critical Air Response Enterprises, LLC | Mayo Aviation Inc. | Thunderbird Airways, Inc. |
| Crow Executive Air, Inc. | Mayo Clinic | Thundercloud Aviation, LLC |
| CSI Aviation, Inc. | McNeely Charter Service, Inc. | TISMA, Inc. |
| CTP Aviation LLC | McRae Aviation Services LLC. | Titan Aviation |
| Custom Jet Charters LLC | Medway Air Ambulance, Inc. | Towards Air LLC |
| Cutter Flight Management | Meregrass, Inc. | Tower Aviation Management, LLC |
| DESERT WINGS AIR CHARTER | Meridian Air Charter | Tradewind Aviation LLC |
| Diamond Aviation | Merlin One | Trans Northern Airways, LLC |
| Direct Approach Aviation LLC | Mid-Pacific Air Service LLC | TransExec Air Service, Inc. |
| Dolphin Atlantic Inc | Millbrook Aviation | Treasure Air Charters LLC |
| Dorado Aviation, LLC | Million Air Dallas | Trego/Dugan Aviation,Inc |
| Dorato Jets, LLC | Mira Vista Aviation Inc. | Tri-State Charter LLC |
| Dreamline Aviation, LLC | Modesto Jet | Trinity Air Ambulance |
| Dumont Aircraft Charter | Monarch Air | Trinity Private Jet Charter |
| Duncan Aviation | Monument Air Works | Triton Air LLC |
| DuPage Aerospace Corporation | Moser Aviation, LLC | Triton Airways LLC |
| East Coast Flight Services, Inc. | Mountain Aviation Inc | True Aviation Charter Services, LLC. |
| Elan Express | MPi Jet | Turbo Air Charter, LLC |
| Elevate Jet LLC | My Corporate Jet, Inc | TWC Aviation, Inc. |
| Elite Air, Inc. | N-Jet | Ultimate Jet Charters |
| Elite Flight Travel, LLC | N50VM, LLC | United States Aviation Company |
| Elite Jets Charter, LLC | Napa Jet Center Inc. | USAC Airways 693, LLC |
| Elliott Aviation Flight Services, Inc. | National Airlines | Valley Air Service, Inc. |
| Empyreal Jet Inc. | National Jets Operations Department | Ventura Air Services, Inc. |
| Epps Air Service, Inc | NetJets Aviation | Venture Aviation Group, LLC |
| ERIN AIR, INC. | New World Aviation, Inc. | Venture Jets Inc. |
| Everts Air Cargo | Nexgen Aviation, LLC | Victory Air LLC |
| ExcelAire LLC | NexGen Flight Solutions, LLC | Walkabout Air Inc. |
| Exec 1 Aviation, Inc. | NEXjet Corporation | Waltzing Matilda Aviation LLC |
| Execuflight, Inc. | Nicholas Air | Warbelow's Air Ventures Inc. |
| ExecuJet Charter Service, Inc. | NOBLE AIR CHARTER | West Air, Inc. |
| Executive Air Charter LLC | North American Air Charter | West Bend Air Inc. |
| Executive Air Services | North Central Air Charter | West Coast Charters Inc. |
| Executive Air Taxi Corporation | North Central Aviation | Wheels Up Private Jets LLC |
| Executive Airlink, Inc. | North Dallas Aviation, Inc | White Cloud Charter, LLC |
| Executive Aviation Corporation | Northcoast Jet Charter, Inc | White Horse World Wide, LLC |
| Executive Flight Management | Northeastern Aviation Corporation | Wilco Aviation LLC |
| Executive Flight Services, LLC. | Northern Jet Management, Inc. | Win Aviation Inc. |
| Executive Flight Solutions, LLC | Northwest Flyers, Inc. | WindAirWest, LLC |
| EXECUTIVE FLITEWAYS, INC. | NXT Jet, Inc. | Windstar Aviation, Inc. |
| Executive Jet Management, Inc. | OIA Air Corp | Windy City Charter, Inc. |
| Exodus Aircraft, LLC | Oklahoma Aviation LLC | Wing Aviation Charter Services, LLC |
| Fairwind | Omni Air Transport, LLC | World Class Jet LLC |
| Falcon Executive Aviation, Inc. (135) | On Eagles Wings I, LLC | World Link Jet Charter |
| Fargo Jet Center | Orange County Sunbird Aviation LLC | XCEL JET |
| First Wing Management LLC | Orion Airmotive | XOJET Aviation LLC |
| Flagship Private Air, LLC | Ozair Charter Service | Zanesville |
| Flexjet, LLC | Pacific Coast Jet | Zenflight |
| Flight Options, LLC | Pacific Jet Charter | |